Schedule An Appointment
Ready to start getting convenient and high-quality psychiatry care from anywhere you are?
It's fast and easy! Just follow the instructions below (works best on computer web browser).
Note: WE ARE NOT IN-NETWORK WITH ANY INSURANCE.
Click HERE for more information on the No Surprises Act (enacted 1/1/2022) and to access your Good Faith Estimate.
Click the Schedule Appointment button below to go to the AmWell signup page where you can create an account (it's free and only takes a few minutes), or sign-in if you already have an AmWell account. Once you are signed into AmWell, you will automatically be redirected to our practice page.
Select "Choose by Date" and choose an available day and time for your appointment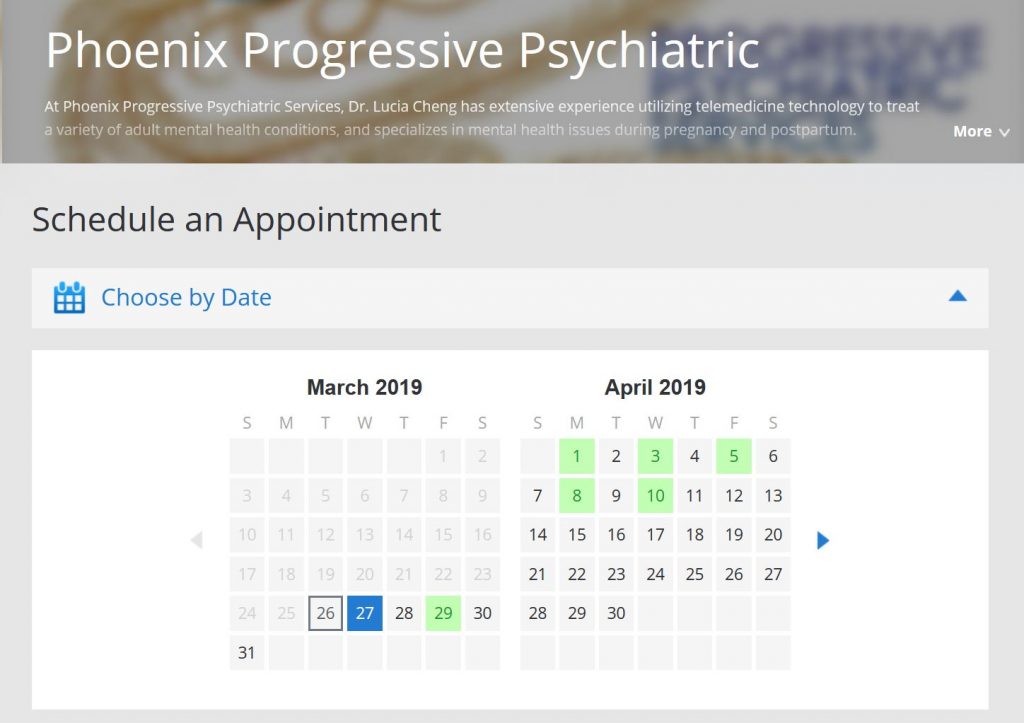 That's It! You will receive an email confirmation of your scheduled appointment with a link to our Treatment Agreement. Please make sure you e-sign this before your appointment.
Welcome to the practice!
WE ARE NOT IN-NETWORK WITH ANY INSURANCE.
If you have any questions regarding signing up for an AmWell account, you can contact AmWell's customer support at 1-855-635-1393 or support@americanwell.com
Tips for preparing for your first appointment to make it as effective and productive as possible.
Treatment Agreement (link is in the email) BEFORE your appointment begins. Dr. Cheng will not start the evaluation until it is signed.
Once you have scheduled your appointment and received your confirmation email, please review all the email information and make sure to review and e-sign the
Make a list of any and all medications you have tried in the past (if any) for depression, anxiety, sleep, OCD, psychosis, etc. Try to include the following details:
The doses of each medication you took
How long you took each medication
Whether the medication was helpful or not
Whether you had any bad side effects from each medication
This really helps Dr. Cheng to choose a good medication treatment tailored to you, avoid re-trying medications that have failed already in the past, and avoid certain types of medications that are more likely to cause you bad side effects.
Try to find out if there were any family members (blood relation, not by marriage) who had any mental health issues and if they ever took any psychiatric medications, as well as which medications worked well or not. (Your family mental health history is extremely helpful to Dr. Cheng to guide medication treatment choice since related family members have similar biochemical profiles. So if a medication worked well or badly for your closely related family member, it may work similarly for you.)
For those seeing Dr. Cheng for pregnancy or postpartum depression issues, we recommend that you complete the Edinburgh Postnatal Depression Scale (EPDS) ahead of time and share your result during the appointment. This really helps Dr. Cheng to focus on your perinatal depression issues during the appointment and be more efficient with your time together. You can Google to find free online versions. Here is a link to one that auto-calculates your score:
In a store or a moving car do NOT count as appropriate places.) Check to make sure that your camera and microphone are working properly and log onto the appointment platform a few minutes early to make sure your equipment is working and to answer the brief intake questions.
On the day of your appointment, make sure you are in a safe, quiet, and private place with reliable internet connection for your appointment. (
Most importantly, BE HONEST! There is no room for embarrassment or fear of judgement during doctor's appointments. The phrase "Garbage In, Garbage Out" is very true in medicine. If the doctor isn't given accurate and complete information, their advice and recommendations won't be as helpful and effective.